More FN57 Scare Tactics and a Useful Handgun Ban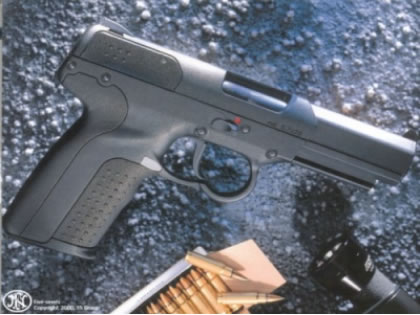 Despite BATFE reassurances (which I documented), the Brady Campaign to Prevent Gun Violence has pressed their attack on the FN 5.7 pistol.
"We are very grateful to Senators Lautenberg, Corzine and Schumer and Congressman Eliot Engel for introducing legislation in the Senate and the House of Representatives to outlaw this weapon," said Michael Barnes, President of the Brady Campaign to Prevent Gun Violence united with the Million Mom March. "This weapon is a tragedy waiting to happen."
Ah, the usual suspects for pro-hoplophobic legislation arrived for roll call. It's good to see that they can be counted on to trot out the latest talking points of the gun control lobby. So much for Democrats trying to distance themselves from gun control.
The bill is S. 527 (The Protect Law Enforcement Armor (PLEA) Act), but it is not yet available on the record at the Library of Congress. Lautenberg cites Hillary Clinton as a co-sponsor even if the Brady Campaign does not.
Lautenberg claims the gun was designed to penetrate vests worn by police. That's an overstatement. The gun, and the companion submachine gun, were designed for use by SWAT teams for going up against criminals wearing vests. They focused on capacity and penetration capability. It is primarily marketed to police. The website cited as bragging about the firearm's potential is intended for police.
The bill has some interesting "findings:"
Sec 2.(a)(3) The Five-seveN Pistol and 5.7 x 28mm SS192 cartridges are capable of penetrating level IIA armor. The manufacturer advertises that ammunition fired from the Five-seveN will perforate 48 layers of Kevlar up to 200 meters and that the ammunition travels at 2100 feet per second.
True enough, but you shouldn't be able to get SS192 ammunition in the United States.
Sec 2.(a)(4) The Five-seveN Pistol, and similar handguns designed to use ammunition capable of penetrating body armor, pose a devastating threat to law enforcement.
Here it comes. Any handgun capable of defeating IIA armor is now under attack… Now, what do we know also penetrates IIA? 9mm FMJ at speeds greater than 1100fps, .357 Magnum at speeds greater than 1250fps, .44 Magnum, .50AE, .500 S&W Magnum, etc. etc.
IIA is the minimum recommended level of body armor if you are going to bother wearing it. It'll stop 00 buckshot, and a lot of other little things, but not 9mm Silvertips, for example. It is definitely not what you wear if you're facing rifle or submachine gun rounds. SS192 is a submachine gun round.
Okay, what's the purpose of S. 527?
Sec 2.(b) Purpose.—The purpose of this Act is to protect the Nation's law enforcement officers by— (1) testing handguns and ammunition for capability to penetrate body armor; and (2) prohibiting the manufacture, importation, sale, or purchase by civilians of the Five-seveN Pistol, ammunition for such pistol, or any other handgun that uses ammunition found to be capable of penetrating body armor.
Welcome to the Lautenberg ban on most guns acceptable for concealed carry. The rest of the bill modifies the pre-existing definition of armor piercing ammunition definition and bans any pistol that can fire ammunition determined to be armor piercing under this new definition.
Nice try.
Let's go back to the Brady Campaign press release:
"Instead of focusing on the threat to law enforcement caused by public sales of this cop killer gun, many in Congress are instead trying to pass legislation that would immunize the gun's manufacturer from lawsuits," Barnes said. "That's insane."
Unlike law enforcement deaths as a result of this pistol, the attempts of hoplophobes to sue legitimate gun manufacturers out of business are persistent, despite the high frequency of such lawsuits getting thrown out of the courts. Even if the manufacturers win the suits, they are out a lot of money.
So, the response to this should be "Pot. Kettle. Black."
The Department of Homeland Security (DHS) issued an alert to all its law enforcement personnel in November, warning that the SS192 ammunition designed for the gun penetrated body armor. "Sales of this weapon in the U.S. have increased tremendously according to the manufacturer," the alert stated.
SS192 ammunition is not available for sale in the United States. Only SS196 is available. Sales of the FN Five-SeveN pistol to private citizens may have increased tremendously (from zero sales before the gun was available to distributors), but sales to criminals are still illegal.
Finally, we have this gem:
The National Rifle Association has defended the weapon and questioned the Brady Campaign's testing. In response to their comments, Barnes today suggested that the NRA's President, Wayne LaPierre, "put on a bullet proof vest, and we'll fire the weapon at him, and see what happens. He should put his body where his mouth is."
I wonder who would beg the most for that video? Not only is the vest not specified, neither is the ammunition or how they might fire it. Knowing what we do about the firearms knowledge of this group, they'd likely shoot for the head and claim the pistol defeated the vest.
The NRA responded:
It is pathetic to see the gun control lobby make hysterical statements to resurrect their failed political agenda. According to the BATFE, this armor-piercing ammunition is only available to the military and police. The Brady Campaign continues to deceive the American people in their effort to ban firearm ownership by all law-abiding Americans.
I'm sure I'll get another drive-by "redneck" comment for this post, but they are sure fun to write.
Update: Alphecca has gathered some quotes on this gun ban, but didn't notice that Lautenberg is trying to ban every handgun that can penetrate a IIA vest.
Josh Poulson
Posted Friday, Mar 4 2005 04:31 PM