FN 5.7 Pistol
According to the ATF, responding to a press release from the Brady Campaign to End Handgun Violence, the "SS196" pistol cartridge for the FN 5.7 pistol is not armor piercing.
First, a gun picture: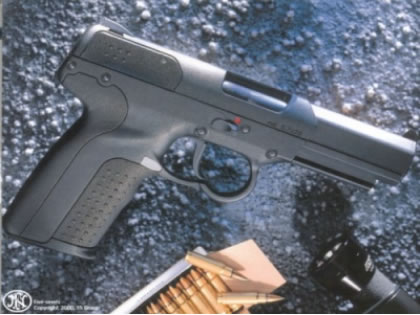 Ah, yes, welcome to the plastic fantastic twenty-first century.
Second, the Brady claims:
The gun, the Five-SeveN handgun manufactured by FN Herstal of Belgium, is lightweight and easily concealable. IBPO Legislative Director Steve Lenkhart referred to the Five-Seven as "an assault rifle that fits in your pocket."
If it was an assault rifle, then it would be fully automatic. The version sold to private citizens is not, of course, as it would be regulated under the National Firearms Act of 1934 and thus unavailable to private citizens, like any fully automatic firearm made after 1968.
It is marketed by the company on its website as intended "to defeat the enemy in all close combat situations in urban areas, jungle conditions, night missions and any self defense action. Enemy personnel, even wearing body armor can be effectively engaged up to 200 meters. Kevlar® helmets and vests as well as the CRISAT protection will be penetrated."
Well, no, the private citizen version of this pistol is not marketed in this fashion. The law enforcement and military version of this pistol is marketed this way. The Brady Campaign is not sensitive to market segments, however, activism is a global issue.
What does the ATF say?
FTB has also examined a 5.7 X 28 mm projectile that FN Herstal has designated the "SS196." The SS196 is loaded with a Hornady 40 grain, jacketed lead bullet. FTB classified SS196 ammunition as not armor piercing ammunition under Federal firearms statutes.
According to FNH USA, FN Herstal tested the SS192 ammunition. SS192 ammunition did not penetrate the Level IIIA vests that were tested. FNH USA states that SS196, Hornady V-Max 40 gr. bullets fired from a 4-3/4 inch barrel did not penetrate the Level II vests that were used in testing.
FNH USA has informed FTB that SS192 is no longer imported for commercial sale to the United States and that commercial sales of 5.7 X 28mm ammunition are restricted to the SS196 (not armor piercing).
In my opinion, if you want a hot .22 pistol, there are certainly better choices than this expensive number with its expensive ammunition. Criminals and terrorists don't have a lot of money to spend on this crud when there are easier targets.
But to the Brady Campaign there is no easier target than guns it thinks no one should ever need. If you want to boil a frog, you turn the heat up slowly. They attack the .50 caliber guns and the hot .22s and continue working their way towards the middle, at which point no guns or ammunition would be legal.
If I was going to spend another $900 on a pistol, I'd get another 1911, probably a longslide in 10mm. If I had more than that to spend, I'd be getting a .50 GI. I'm not going to waste my time with a hot .22. There are far better target pistols and there are far better defensive pistols. This gun was targeted at people who like to have guns that look like what the professionals use.
Josh Poulson
Posted Thursday, Jan 27 2005 07:18 PM