Nikon D2X
Buddies Dan and John will be excited, the pricing and the availability of the (12 Megapixel) Nikon D2X have been announced.
Nikon Inc. is pleased to announce pricing and availability for its highly anticipated D2X professional digital SLR camera. The camera will begin shipping on February 25, 2005 with a suggested street price of $4999.95 (MSRP $6299.95).
If you're a camera buff, I recommend reading www.digitalslr.org.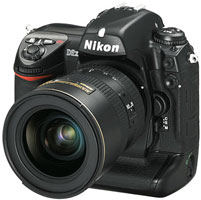 (Picture from Gizmodo)
Me, I could take the family on another cruise for that kind of cash, and I think I can suffer along with my old camera. In fact, I'm more in the market for a camcorder at this point…
Update: I should have mentioned that my current camera is the Nikon Coolpix 4500.
Amazon.com links
Josh Poulson
Posted Thursday, Jan 13 2005 08:42 AM